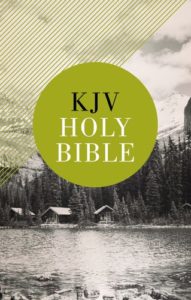 God uses the Bible to speak to us and it is one of the most if not the most important tool a Christian can have. Therefore it is out duty to equip as many believers as possible with a free copy the KJV Bible. May you find joy and peace in the presence of the Lord Jesus Christ through this wonderful book.
Features Include:
Complete text of the King James Version
Getting to Know God
ABCs of Salvation
Life in New Testament Times
30 Days with Jesus reading plan
Ministry, Miracles, and Parables of Jesus
Easy-to-read, 8-point type
We have limited supplies so we can only offer one per household.
Get your free copy today just pay the $2.66 shipping cost.

NB. We can only fulfill requests within the contiguous 48 American States right now. Arrangements are being made to reach the entire world.
GOD BLESS